Antibodies in the soldier's bloodstream could suggest exposure to or vaccination against the deadly disease
Wednesday 27 December 2017 19:23 GMT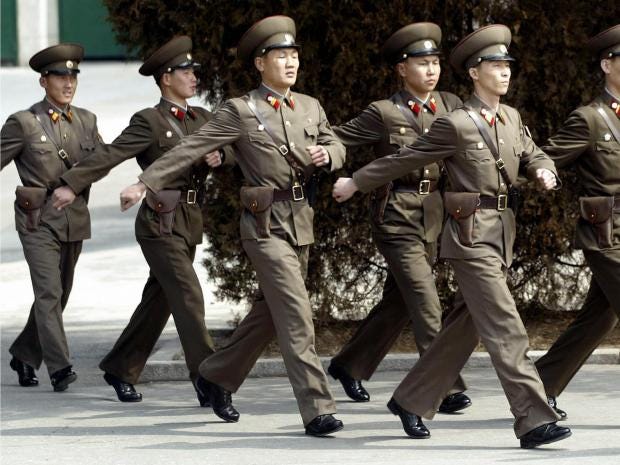 A North Korean soldier who defected to the South earlier this year was reportedly found with antibodies in his bloodstream that suggest past exposure to anthrax.
Signs of the deadly bacterial infection have added to fears in South Korea that the North is developing biological weapons, according to local media.
The soldier was not identified, but South Korea authorities were quoted as saying he had developed immunity to the disease prior to his defection.
"Anthrax antibodies have been found in the North Korean soldier who defected this year," an unnamed South Korean intelligence official told local news network Channel A on Tuesday.
Antibodies are molecules that indicate immunity to a disease, as they are produced in response to an infection and help neutralise potential threats in the body.
Their alleged presence in the soldier suggests he was either exposed to or vaccinated for anthrax, a dangerous disease with a history as an agent of biological warfare.
North Korea has long been suspected of developing biological weapons.
Testimonies from defectors suggest a North Korean programme to develop biological weaponry has existed since the 1960s.
When the regime publicised the Pyongyang Biological Technology Research Institute in 2015, US analysts suggested the equipment there – allegedly used for pesticide research – could be used to make biological weapons.
"It is hard to avoid the conclusion that the institute is intended to produce military-size batches of anthrax," wrote Melissa Hanham, a North Korea specialist at the James Martin Center for Nonproliferation Studies, in a blog post commenting on the facility.
"Regardless of whether the equipment is being used to produce anthrax today, it could be in the near future."
Anthrax is found naturally in the soil, particularly in agricultural regions in developing countries.
Its appeal as an agent of biological warfare comes from the relative ease with which regimes can acquire the microbes responsible, and subsequently release them without arousing suspicion.
Both South Korea's National Intelligence Service and Defense Ministry told CNNthey could not confirm the new report concerning the North Korean defector.
The Defense Ministry noted that none of the four soldiers who defected in 2017 are believed to have worked in North Korea's biochemical warfare unit.
Nevertheless, the report comes at a time of heightened tensions surrounding biological weapons in the region.
The recent US National Security Strategy stated: "North Korea – a country that starves its own people – has spent hundreds of millions of dollars on nuclear, chemical, and biological weapons."
It went on to say: "North Korea is also pursuing chemical and biological weapons which could also be delivered by missile."
The North Korean state-run Korean Central News Agency (KCNA) called these claims "groundless".
KCNA also threatened "revenge" against the US for claiming North Korea is defying the terms of the Biological Weapons Convention, which bans the development, production and stockpiling of biological weapons.
South Korea's military is working on an anthrax vaccine, but according to Defense Ministry spokeswoman Choi Hyun-soo one will only be developed by the end of 2019.
In the meantime, CNN reported that 1,000 doses of anthrax vaccines were imported to South Korea in November to be given to biochemical counter-terrorism agents or civilians in the case of anthrax exposure.