Abstract: The 1st IOC is comprised of 7 different elements, teams and support each trained to aid the United States military on a different aspect of cyber information and resources. This is breakdown of those elements.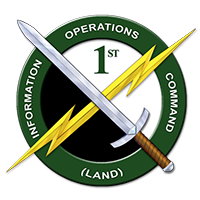 1st Information Operations (IO) Command
 is the Army's only Active Component Information Operations organization. A multi-component, brigade-level organization, it consists of a Headquarters and Headquarters Detachment (HHD) and two battalions. 1st IO Command's mission is to provide Information Operations and Cyberspace Operations support to the Army and other Military Forces through deployable teams, reach back planning and analysis, and specialized training. 1st IO Command is a major subordinate command of the U.S. Army Intelligence and Security Command (INSCOM) and is under the Operational Control (OPCON) of the U.S. Army Cyber Command (ARCYBER).
The 1st IO CMD deploys a variety of mission-tailored teams, each configured to meet the supported command's requirements.
1. IO Field Support Teams (FST): FSTs provide supported commands, both Army and Joint, with full spectrum IO subject matter expertise. These deployable FSTs leverage the Command's reach back planning and analysis, provide synchronization of Cyberspace Operations in an effort to operationally integrate IO, and reinforce forward IO Capabilities to enable holistic IO throughout the Information Environment.
2. IO Vulnerability Assessment Teams (VAT): VATs assist units in identifying and resolving vulnerabilities to improve the command's defensive posture. VATs have the capability to assess and identify vulnerabilities across the full spectrum of information operations, to include Operations Security (OPSEC), Physical Security, COMSEC (phone and email), Social Engineering and Wireless Security, as well as Cyberspace operations.
3. Operations Security (OPSEC) Support Element (OSE): The OSE trains and prepares appointed OPSEC Program Managers and OPSEC Officers to manage unit OPSEC programs and advise their commanders in all OPSEC areas.The element is responsible for planning, training, conducting assessments, and integrating OPSEC throughout the Army.
4. Information Warfare/Cyber Opposing Force (IW/Cyber OPFOR): 1st IO Command's IW/Cyber OPFOR is tasked with providing realistic, live, virtual, and constructive replicated Nation-State, Violent Extremist, and Criminal Cyber and IW capabilities to Army units during training missions at home station, Combat Training Centers, and during Mission Command Training Program exercises.
5. The Army Information Operations Center (AIOC): 1st IO Command's AIOC provides the Army's only IO focused reach back planning support, intelligence analysis, and technical assistance to deployed 1st IO CMD teams and other military units, agencies, and departments requesting support. No other organization in the Army provides this critical, one-of-a-kind capability focused on the information environment.
6. Specialized IO training: 1st IO Command provides resident IO-related courses at Fort Belvoir, VA, and mobile training teams (MTT) worldwide. Each of the courses focuses on the integration of Information Related Capabilities (IRCs). Training courses include: IO Capabilities, Applications and Planning Course (IOCAP); IO Fundamentals Course (IOFC); Military Deception Planners Course (MDPC); Electronic Warfare Integration Course (EWIC); and the Military Information Support Operations Integration Course (MISOIC).
7. IO FST Mission Readiness Exercise (MRX): 1st IO CMD to hosts realistic MRXs for Active and Reserve Component Field Support Teams (FST) consisting of four or more personnel scheduled for deployment on contingency operations.
1st Battalion, 1st IO Command: The 1st IO Battalion is responsible for the training and global deployment of multiple expeditionary Information Operations (IO) teams from the Active Duty and Reserve Component to synchronize information related capabilities in support of the Army, Joint Task Forces, and Combatant Commands. Using publicly available information, 1st Battalion provides social media analysis to enable force protection and operational security in support of deployed forces. 1st Battalion is leading the development of a social media analysis and engagement capability for the Army and Joint Force requirements.
2nd Battalion, 1st IO Command: The 2nd IO Battalion deploys multi-functional Information Operations (IO) teams worldwide while maintaining close and remote network access to employ a full range of IO capabilities that improve the readiness and ability of U.S. military forces to operate decisively in a contested Information Environment.