Europeans Cut Saudi Arms Sales
Summary: Three European states, Belgium, Germany and Norway, who are all party to the Arms Trade Treaty (ATT) have cut off their export of arms to Saudi Arabia to maintain their agreement to uphold the ATT. There is a provision of the ATT prohibiting arms to be exported to areas where they can be expected to be used to commit abuses. The conflicts that have been taking place between Houthis and a Saudi-led coalition and consequent civilian deaths are what caused these European countries to cut off their arms exports to Saudi Arabia.
March 2018
By Jeff Abramson
As Saudi Crown Prince Mohammed bin Salman planned visits to Washington and other Western capitals, a number of European countries cut or confirmed prior cessation of arms sales to his country and others fighting in the controversial Yemen war.
The actions by Germany, Norway, and the Walloon district of Belgium did not appear to alter the arms sales plans of France, the United Kingdom, and the United States, but did build on efforts by the European Parliament and others calling for an embargo on arms shipments to Saudi Arabia.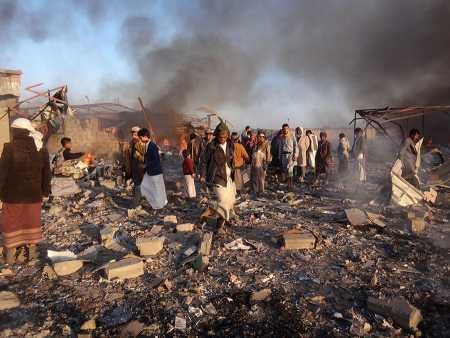 Yemenis inspect the damage at the site of air strikes in the Houthi-held city of Saada on January 6. (Photo: STRINGER/AFP/Getty Images)
Since fighting began in 2015 between the Houthis, who now control Yemen's capital, and a Saudi-led coalition backing ousted Yemeni President Abed Rabbo Mansour Hadi, the UN high commissioner for human rights has documented more than 15,000 civilian casualties and noted in February that hostilities were increasing, with all sides responsible for the high civilian toll. In January, the UN Office for the Coordination of Humanitarian Affairs estimated that more than three-quarters of the population, some 22 million people, were in need of humanitarian assistance.Recognizing the dire humanitarian situation, the European Parliament adopted resolutions in 2016 and 2017 calling for an arms embargo on the Saudis, citing in a Nov. 30 resolution that "dozens of Saudi-led airstrikes have been blamed for indiscriminately killing and wounding civilians in violation of the laws of war." Although those resolutions were not binding, a number of European countries have announced policies that reflect concern about further arming Saudi Arabia and its coalition partners. A 2015 UN Security Council resolution already bans weapons supplies to the Houthis.
Germany announced in January that it would no longer sell arms to parties fighting in Yemen, a policy change struck as part of efforts to form a new coalition government. Germany in 2016 authorized licenses for the export of "war weapons" to Saudi Arabia and the United Arab Emirates valued at 21 million and 13 million euros, respectively, according to a German government report. "Military equipment" licenses, which are broader than just weapons, were valued at 530 million and 169 million euros.
On Jan. 3, Norway announced that it would no longer export arms and ammunition to the UAE, based on "a comprehensive assessment of the situation in Yemen and the increasing risks" associated with UAE military engagement there. The announcement also confirmed Norway's pre-existing ban on export of arms and ammunition to Saudi Arabia.
Also in January, Belgian media reported the Walloon region had stopped granting licenses to export weapons to the Saudi Ministry of Defense. Quoting Willy Borsus, minister-president of the Walloon government, the reports cited risks of Walloon weapons being turned against civilians in Yemen. Licenses to the Saudi Royal Guard and Saudi National Guard would continue because those groups do not conduct military operations outside the country, according to the accounts of Borsus' statements. The Walloon region of Belgium, which is able to make independent decisions on arms licenses, is home to firearms manufacturer FN Herstal S.A. In the past, Saudi Arabia has accounted for a large share of Walloon arms sales.
Belgium, Germany, and Norway are states-parties to the Arms Trade Treaty (ATT), which includes provisions against selling weapons where they can be expected to be used to commit abuses. Advocates have been pushing treaty members to stop arms sales to Saudi Arabia, but states have generally resisted such direct conversation at their annual meetings. (See ACT, October 2017.)
Preparatory committee meetings begin this month for the fourth ATT Conference of States-Parties, which will be held Aug. 20-24 in Tokyo. Whether greater attention will be paid to the topic remains to be seen.
France and the UK, also treaty members, have continued to sell arms into the region and reportedly will be visited soon by the Saudi crown prince. He is expected to tout civil liberties and anti-corruption efforts, but arms sales discussions are likely. His UK visit reportedly was delayed to this month due to anticipated protests about his role in the Yemen war.
The 32-year-old crown prince, who is a son of the current Saudi king and is his designated successor, is expected to visit Washington as soon as this month. The Trump administration has shown a continued willingness to arm Riyadh, most recently with the Jan. 17 notification of a potential $500 million sale to support Saudi Arabia's Patriot missile defense system. The United States is an ATT signatory.
Posted: March 1, 2018